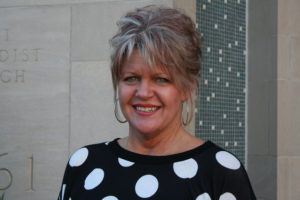 As Downtown Alive Choir Director, Diane Fast prepares for retirement, we sat down with her for an interview about her time at First Church and her plans for the future. We thank you, Diane, for your dedicated service to God and to this body of believers. We wish you well and look forward to seeing you in the soprano section on any given Sunday.
Interviewer:  Diane, can you tell us the history behind your time here at First Church?
Diane:  Eight years ago I was asked if I would be interested in becoming the soprano section leader.  Due to life circumstances I was unable to accept the position, however I did sing with the choir.  It was through this opportunity I met Brett Valliant who has become such an important person in my life.  For the last five years I have been directing the DTA Choir and this Easter will be my 6th year to direct music at an Easter Service.  This experience has been an absolute joy and the pinnacle of my professional music experience.
Interviewer:  What was your motivation for becoming choir director?
Diane: I actually did not seek the position as I was directing the Children's Choir at the time. When the decision was made to discontinue the Children's Choir, Patrick Green was acting interim director of the DTA Choir.  It was then Brett Valliant asked if I would be interested in the position.   I was humbled but gladly accepted.
Interviewer:  What goals had you set for yourself in this leadership role to share with the choir?
Diane: I wanted to have a close relationship with the singers.  I wanted the Choir to be an intimate group of people all interested in singing and serving the Church through worship music.  I knew the Church had a long history of expecting high quality musicianship, and the literature was one that I wanted to see continue.  It was my hope to pass on some ensemble techniques to enhance the choral sound.  
Interviewer:  Please share your motivation for establishing a scholarship fund for vocal music students from area universities.
Diane: As a college student at Hutchinson Community College and Wichita State University, I had music scholarships from area churches where I did solo work and sang with their church choirs.  This was a rich and valuable experience for me, and it was an experience I wanted to pass on to others.  Also, I wanted to bridge the generational spiritual experience for both the young and more mature singers and enhance the overall choral sound in the process.
Interviewer:  What are your retirement plans?
Diane: I hope to continue singing with the DTA Choir, have more opportunity with family and to travel with my husband.
Interviewer:  What will you take with you for having shared this experience not only with the DTA Choir but with those who have come to know you through your role as Choir Director?
Diane: This has been life changing for me and a very proud moment both musically and spiritually in doing God's work.  I have always recognized the importance of music in a sacred setting.  Music, for me, prepares the heart for the Word.   This is doing God's work and always has been a very important part of my worship experience.
Interviewer:  April 28 will be your last Sunday as our Choir Director and you have selected a special anthem for that day.  Can you share what this piece means to you?
Diane: "My Eternal King" is a choral piece that was introduced to me by Brett Valliant. It is so well written and composed and because of that there is always something that a director can do to enhance the meaning both chorally and spiritually.  It is also a favorite for Brett,  so this is a way to finish our work together here at First Church.  Brett has been a real inspiration for me over the years in that he gave me a unique opportunity and believed in me.  And for this, I will be eternally grateful.  We all have mentors in our lives that lead us to a higher place; Brett has been that for me.  I owe him so much.
Interviewer:  In closing, Brett, is there anything you would like to say about having worked with Diane Fast?
Brett: Throughout history there have been great musical partnerships that work beautifully together, and being teamed with Diane Fast has been one of those situations that is exceptional and unrepeatable.  Some of the most memorable musical moments of my life have been the result of what Diane accomplished with our choir.  Diane does not strive for excellence, it's just that she only has one mode of operation, and it is excellent.  I will miss her leadership immensely and I know our church will, too.