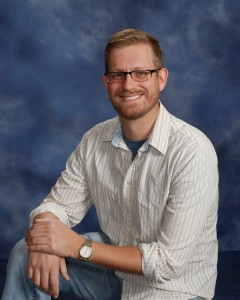 I grew up as a United Methodist Pastor's kid and spent my formative years in Topeka and Ottawa, KS. As a youth, I was involved in Conference Youth Ministries and Institute and experienced a call to ministry at a young age. I spent my college years as a Moundbuilder at Southwestern College in Winfield, KS where I earned a bachelor's degree in History with an emphasis in secondary education as well as a minor in music. There my passion for worship music was developed as I was a member of a music outreach team and of our chapel praise band. Throughout my faith journey, the importance of relationships as a means of sharing Christ has always been evident to me and it is a great joy to engage with others through fellowship, worship, study, and teaching.
When I'm not in my office at Mead's Corner, you can usually find me in my shop building something. Whether it's a table, cabinetry, or just a simple project for a friend, working with wood is a major outlet for my creativity and source of rejuvenation for my soul. Music is another source of joy in my life and I have very eclectic tastes. I like to say that all music, when performed by good musicians is good music. On any given day you can find me listening to the Beatles, John Mayer, Stevie Ray Vaughan, Sufjan Stevens, Iron and Wine, The Decemberists, Charlie Hall, David Crowder, Shane and Shane, or a slew of other artists. I play guitar and sing in a rock band called Artfully Folded Paper. We sing mostly original music with a few of our favorite covers.
One of my favorite verses of scripture is from 1 John 4:20 (NIV) If anyone says, "I love God," yet hates his brother, he is a liar. For anyone who does not love his brother, whom he has seen, cannot love God, whom he has not seen.
(316)267-6244 ext. 216