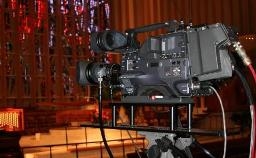 Since 1975, First Church has opened its doors wide, using the medium of television to extend the reach of our worship service outside of our building.   In the early 1970′s, Bishop Dick Wilke and a group of visionary church leaders formed a plan to televise Sunday services from First Church.  This year we are excited to celebrate the 40th anniversary of our Television Ministry!
The Downtown Alive Worship service is broadcast live from downtown Wichita every Sunday at 11:00 a.m. on KAKE-TV, throughout the state of Kansas.  The service is also streamed live at, http://sundaystreams.com/go/firstwichita.
This ministry is completely self-supporting, funded outside of the church's general budget.  Our broadcast is made possible  each week through a large group of persons who volunteer their time running cameras, sound boards, graphics and much more.   We also depend on contributions from viewers like you!  We invite you to join us for worship any Sunday and consider a donation to support this vital ministry!
In celebration of our 40th anniversary, we encourage you to think big!
$40, $400, $4,000, or be bold in Christ- $40,000!
Your gift may mean the world to someone you know or someone you will never meet. Your contribution provides persons the opportunity to hear the message of Jesus Christ and experience the love of God.
*Pastor Cindy has graciously offered to prepare and serve a gourmet meal in her home, featuring special music for Brett Valliant, for anyone who makes a 40th anniversary contribution of $4,000 and above to the Television Ministry in October.  We hope you will join us in celebrating this outreach ministry!