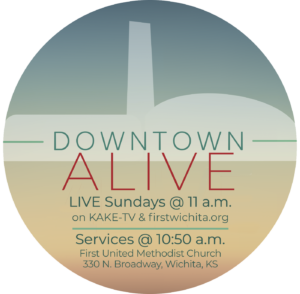 First Church has been reaching beyond our building walls into the homes of thousands of viewers across Kansas through our Television Ministry for 46 years! Our televised Sunday morning worship services have made it possible for us to worship, pray and celebrate together with the homebound, those in nursing care as well as many others unable to attend church for a variety of reasons. We have been a church home to those whom might not otherwise have one, and an option for those who are unable to attend their own church regardless of their denomination.
Our LIVE broadcast is produced in house each week by 10 to 12 volunteers. From pre-production to Sunday morning camera operation, to on screen graphics, and sound, every aspect of this process involves dedicated volunteers with an interest in technology, and a passion for the mission of bringing the church to those in need.
We invite you to join us for Sunday worship either in person or live on KAKE TV, Channel 10 at 11 a.m. or online, you will be blessed!
Television Ministry Links & Resources
Support the Television Ministry
To make a pledge to the Downtown Alive TV ministry, contact our business office at 316-267-6244.